Advance Carpet Stain Removal Adelaide
Famous Cleaning does not just offer carpet and upholstery cleaning service. we are able to offer a full range of specialty stain removal service, applied by our professionally trained technicians, that can remove stains that other cleaners simply leave behind. Stain Removal Service Adelaide is only required for difficult stains and is often time consuming, but when you consider the cost to replace carpet you can appreciate that undertaking specialized stain removal is an investment in your home.
Accidents happen …
Those little accidents will happen, no matter how much you try to prevent them. children accidentally spilling a drink, someone knocking over a glass of red wine or dropping a plate of food. it's happened to us all. It's then usually a frantic dash to the kitchen cupboard for a cloth or towel to mop up the spillage as quickly as possible. Your best chance is to act quickly. Without a doubt, the longer spills remain on your carpets or upholstery, the harder they are to remove, as they turn into a stain. Most carpet stains can be dealt with, but Famous Cleaning- Carpet stains will probably require proven Stain Removal Service Adelaide and technical skills.
Your Famous Cleaning stain removal expert possesses the finest array of unique stain removal tools and products to eliminate virtually any stain. Our specialized stain removal treatments have been designed to achieve maximum success, and we firmly believe that "if we can't get it out, no one can."
Carpet Stain Removal Service Adelaide
Removing stains others leave behind is our specialty. This is why many of Adelaide's best Property Managers recommend us for Carpet Stain Removal Service Adelaide. They know the importance of getting it right the first time. You can be assured we will achieve the best results in your home or commercial premises for you too.
Famous Cleaning Technicians are willing to try to remove any stain. We have had phenomenal success removing spots such as:
Red Wine Stains
Ink Stains
Coffee Stains
Cordial Stains
Rust Stains
Permanent Marker Stains
Water Damage Stains
Soft Drink Stains
Texta Stains
Tea Stains
Juice Stains

Vomit Stains
Coke Stains
Oil Stains
Beer Stains
Lip Stick Stains
Makeup Stains
Sauce Stains
Urine Stains
Blood Stains
Grease Stains
Each stain is somewhat unique, but our staff is expertly armed to battle even the toughest of them.
Do all carpet stains come out?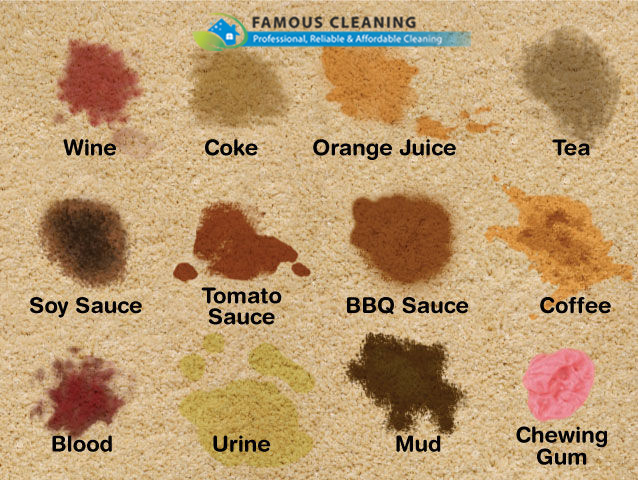 The simple answer to this question is 'no'. This is because some stains actually change the composition of the fiber itself bleaching or dying the carpet. All the contents of the stain will be removed by the deep cleaning process, however damage maybe already done to the colour pigments and carpet fibres. Stains such as pet urine and vomit are acid and can burn the fibers causing physical damage. The best thing is to act quickly and call us in straight away for the best chance of complete stain removal.
Stain Removal Tips: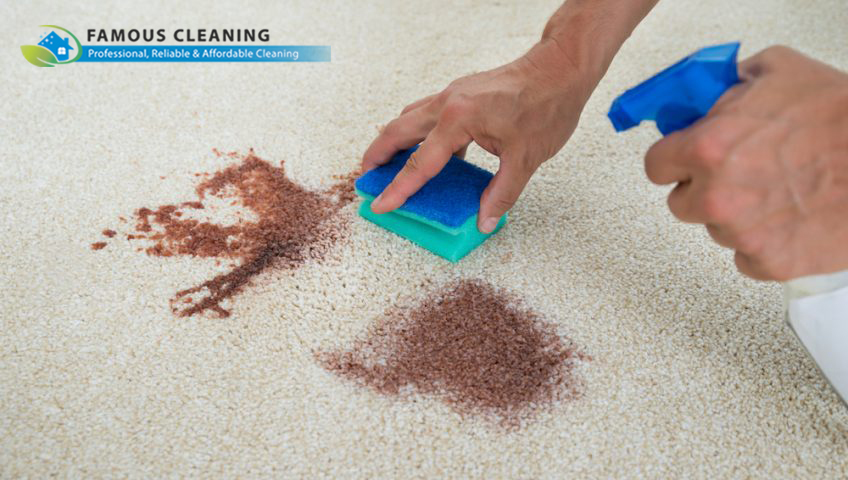 Act Quickly. The longer the stain is allowed to remain, the more chance it has to set.
Know what kind of stain you are working on as well as the type of fabric or surface it is on so you can choose the best product.
Remove as much excess stain as you can by blotting, scraping or brushing whatever will come off.DO NOT rub it in.
Test all fabrics and carpets before cleaning by spraying a small amount of Famous Cleaning Professional Strength Spot Remover or Famous Cleaning Grease & Oil Remover on a hidden area, blot dry and observe for 10 minutes. Make sure there is no color removal onto the cloth and that, when dry, there is not a visible discoloration in the area you cleaned.
Work from the outside edge of the stain to the inside to keep the stain from spreading.
Call Famous Cleaning for expert spot; stain removal if these efforts do not work.
Have our Professional Technician apply our Powerguard Protector with every cleaning to give you the best chance for removing stains.
Re-appearing carpet stains? No problem with Famous Cleaning
Carpet Stain Removal Service Adelaide -Carpet stains re-appear in the same place after cleaning, for two reasons. Firstly, they were never thoroughly removed to begin with. Often the unwanted material is forced down below the surface of the carpet by a high pressure steam cleaning unit, only to resurface as the carpet dries. Secondly, the soapy cleaning solutions used by many steam cleaners, creates a sticky residue that attracts more dirt and grime to the location. Through the use of Famous Cleaning's carbonated carpet cleaning solution, we can thoroughly remove stains quickly and efficiently. We apply our solutions carefully, and without high pressure, so that stains are not likely to resurface. If a spot does reappear, however, so will we until the problem is solved.
Value For Money Stain Removal Services Adelaide
You are very unlikely to see Famous Cleaning on the cheap list. Our thorough deep Carpet Cleaning process takes time, care and expertise; so cutting corners to give you a cheap job is not what we are about. We do however understand how important it is to deliver a great result at a true value for money price. We want you to use us again and again and tell all your friends about us. This is why we have a satisfaction and 100% money back guarantee on our cleaning services.
Why not try us once? But Don't Take our Word for it…
Life is about comparisons; if you haven't used our professional services before, you've got nothing to base your previous cleaning results against. We welcome you to try us once and we know you'll be delighted with the cleaning results. We are committed to providing you with a 'Knock-Your-Socks-Off service' and stand behind it with a money back guarantee, so you've got nothing to lose.
24×7 with Same Day Service